Dot Categories: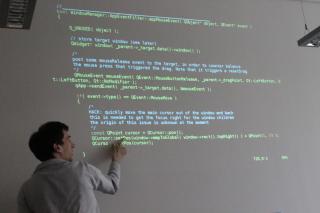 Code review during the Plasma sprint
Last week, members of the Plasma team met in Nürnberg, Germany to discuss open questions on the road to Plasma Workspaces 2. The meeting was kindly hosted by SUSE and supported by the KDE e.V.. For the Plasma team, the meeting came at a perfect point in time: porting of Plasma to a new graphics has commenced, is in fact well under way, and has raised some questions that are best discussed in a high-bandwidth setting in person.
Graphics Stack Options
The developers laid out the plans for an eventual release of Plasma Workspaces 2, based on KDE Frameworks 5 and Qt5. Wayland is also part of this plan. Starting with Plasma Worskpaces 2, Wayland will join X11 as a supported windowing environment, and all new development is taking this into consideration. Wayland is a replacement for most of the functionality which is today offered by Xorg. Wayland simplifies the graphics stack significantly with the goal of making every frame shown on screen perfect, something that is hard to achieve reliably with X11. Wayland's leaner graphics stack and improved security model also make it more appropriate for use on modern devices. As such, it is widely seen as the successor to X11 in the Free software ecosystem. Most of the gruntwork needed for this transition is already offered in Qt, however, there are still quite some X11-dependent code pathes in the KDE Frameworks, especially in KWin and the Oxygen widget style. While KWin is making excellent progress towards being able to be used as Wayland compositor, the future of the Oxygen widget style is still an unsolved problem.